Note: This page is more than usually unfinished
Chapter 2: Education
Charlie's early education came through his parents, and through governesses. He learned from his father a love of technology and engineering. One of the governesses was Jean Burnett, pictured here (left) who taught him and Emily when he was about 12. He and Emily kept in touch with her for many years afterwards.

A note dated 20/1/1914 from Mary and Rachel Harding, who lived at Kilafin in Laragh (Kilafin House is now the headquarters of the National Park centred on Glendalough), suggests that he was starting school then for the first time:
Dear Master Charlie

Please accept this small token with our very best wishes for your future health and happiness and may God's blessing be with you in your School life.


Boarding schools were an accepted part of life in his family.

His father had been sent to a boarding school in England. His mother, while she was in Dresden as a 16 year old, chose to be a boarder at a school in the city. They continued the custom with Charlie, and later with Emily.

Charlie's first school was Aravon, a boarding prep school (which is still going strong) near Bray.

Charlie used to come home each Saturday and return to school early on Monday morning - except for the time when terrible storms washed away two sections of the railway line.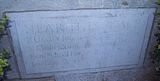 Over the Easter weekend of 1915 Evelyn and Edward crossed to England to inspect Cheltenham College as his secondary school. There was a strong family connection with Cheltenham. Charlie's Acton grandfather and his brothers had not only been pupils at Cheltenham but had brought Rugby fooball from Rugby School, their previous school.

Strange as it seems, the College was not on holiday - there were two services in the chapel on Easter Day, and College sports on Easter Monday. They saw Hazelwell, the house which Charlie was to join. While they were in Cheltenham they visited the Ladies' College and saw a Miss Bates and also Miss Humphreys, who came shortly afterwards to be Emily's governess.

That visit was April 3-6. Charlie was able to have a little time for recreation - a visit to Glendalough, and a fishing expedition with a friend called Shephard - but on April 27th Evelyn was packing Charlie's luggage, and the following day he and his father set off for Cheltenham. New boys were to arrive on 29th, and took the entrance exam on the first day of term, the 30th. His father then went down to Bath, and arrived home on 4th May with Miss Humphreys.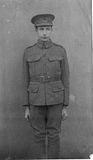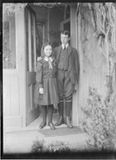 April would now be an unusual time of year to join a new school, and nearly 15 would be a late age, but such matters were evidently less regimented in those days. Charlie was photographed in Officers' Training Corps uniform, and if the war had lasted just a little longer, as a master at the college told me, he would have been called up into the army, and might well have joined the 600 Cheltenham Old Boys who were killed in the First World War. As it was, he went on the Trinity College, Dublin, to read Engineering. He did run a risk in crossing the Irish Sea to Cheltenham. The mail boat that sailed between Kingstown and Holyhead, and which Charlie used, was protected against U-boats by a dirigible airship based in the grounds of Malahide Castle. According to a history of the Castle the airship was damaged on October 9th 1918. On the 10th RMS Leinster left Kingstown unescorted, and was torpedoed and sunk near the Kish lightship, with the loss of 500 lives.

At the end of one term at Cheltenham, Charlie stayed on at school after the otherboys had left - he was probably waiting for the mailboat. As he was the only one at lunch, the cook asked him his preferences, in a question that struck him as very funny: "Do you like white mould?"

The one letter from Cheltenham College that I have seen was written to Emily. It is laced with delightfully dated expressions - bucked, oof, topping:
Hazelwell,
Cheltenham
1/12/18

My dear Emily,

I am so glad my letter cheered you, well cheerio again half a dozen times and then once more for luck. Just lately I have been very bucked with life, I don't know why but I have. Today, however, the gramophone spring has broken so I am fed to the teeth with everything.

However I think of how bucked I was yesterday and say that the gramophone doesn't matter a blow and then I am left very fairly braced.

Please thank Mother very much for her kindness re oof but don't let her put herself out as you see I have £1 which is plenty only the more you have the more you spend.

Oh yes I heard from my small friend the other day. Old Strachan. I wrote to him asking for a letter and a photo. Both arrived in a few days and in future I know him as Bob? Topping old fellow he is. He said I might come down here for a weekend. I am sure you would quite agree with me going out with him if he did come, wouldn't you? just to satisfy Unwin I write.

And oh yes again, I have passed for sergeant and hope I may wangle promotion before I leave. I got 91 out of 100 and was 1st. I am 6th this week.

Well goodbye for the present, with love to all from your

very loving brother

Charlie L/s.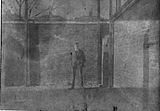 It was, incidentally, very fortunate for Charlie that the war ended when it did. He was, as he wrote, an N.C.O. in the school Officers' Training Corps, and like all the young men of his generation he had faced the prospect of conscription and the torment and danger of Flanders trenches, in the war that had already taken the lives of two uncles. As it happened, he left school the month after the Armistice was signed.

In later years he said of Cheltenham: "You spend 4 years of your life at a public school and the rest of your life trying to disguise the fact."

Edward wrote to Emily from Wentworth House on Thursday 31st October 1918 about a day out with Charlie, visiting an engineering works where he himself had once been employed, and a cinema:
Charlie was delighted with the great workshops where all the lathes, drilling machines, screwing machines, planing machines and many others, shaped all the parts for the locomotives, then we went through smithy and saw the great steam hammers etc.
Charlie indeed retained a delight in great engineering works to the end of his life. He wanted to take his nephew to an electricity generating station, so that he could share his awe at the vast power involved and the quietness of it all, but the visit never happened.
We afterward did shopping, had dinner and then went to a picture house till train time. The most interesting set of pictures was shown and a trip through Bourneville the Garden City - it really was beautiful and most interesting seeing the chocolates being made, the choc creams being coated and packed and everything, and then the train loads of huge milk tins arriving and being unloaded, hundreds of sacks of the rough chocolate being brought in, then the men playing cricket, the girls in lovely lawns playing foot ball, and the young women playing tennis. Then again was another great swimming baths for the girls with dozens of the latter diving and swimming, and others for the boys.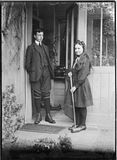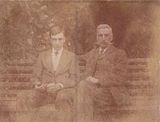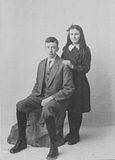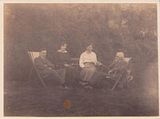 1919 saw Charlie cycling to Kilmacurragh and to Glendalough visiting relatives, before going up to Trinity College, Dublin to read engineering, like his father.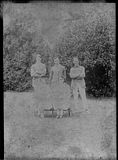 One anecdote shows both his naivete and his kindness. At a student dance he found one lady who looked rather unattractive, and gallantly asked her to dance. Only afterwards did he discover that 'she' was a male student in drag.

There is no indication that Charlie followed his father into the Orange Order.

Previous chapter || Next chapter