Archdeacon George Robert Wynne
Born 6 March 1838 in Dublin; died 2 May 1912 in The Lodge, Glendalough. Scholar, parish priest, mystic, and prolific writer of novels, and of religious works for adults and children.
Family background
Robert, as he was known, came from a land-owning family with a military history. He was the eldest son of George Wynne (1806-94), who as a young man served in the 2nd Dragoons, and went on to be bailiff to Lord Antrim, and then secretary to the Wicklow Grand Jury, the body which later became Wicklow County Council.

Robert's grandfather was another Robert Wynne (1760-1838), who was in his youth a Lieutenant in the 12th Dragoons, and then farmed in Clonsilla, near Dublin, where he raised the Clonsilla Cavalry which fought in the 1798 rebellion, before he went on to acquire Rathmines castle in County Dublin and pursue a career in government service as Commissioner of Port Duties and Customs in Ireland. He seems to have had a house also in Dunleary (later, for a while, Kingstown, now spelled Dun Laoghaire), where he died.

Our Robert's great-grandfather was the Right Honourable Owen Wynne (1723-89) of Hazlewood, Co. Sligo, owner of a large estate and an Irish M.P. and Privy Councillor.
Education
Robert was educated at home, it seems, until the age of 16. Then, as he wrote:
I recall the time when, as a lad of sixteen, I was sent to study in a scientific college. While I was there, and attending lectures and classes, and reading scientific books, I now remember that I was indirectly learning something else of more importance, and of greater influence on my life. I was for some reason disliked by a knot of my class-fellows who, to use a term then unknown to the language, "boycotted" me, because I would not associate with them in certain wrong practices. I was excluded from their company, slandered, and obliged to sit and read and walk alone. And yet this time of depression and unkindness was a time, I trust, of advance in personal religion; and in those dark days, He taught me in my youth; and I record this mercy as a help to others, asking them whether in some past time they too have not been taught by unkindness and persecution to know the satisfaction of communion with God when all other friends had forsaken.
Robert's home education was clearly thorough, wide-ranging and inspiring, because he entered Trinity College, Dublin, on December 12, 1857, aged 19, to read Sciences, and not only graduated in 1761 with a Senior Moderatorship in his chosen subject of Experimental and Natural Science, but also gained a first class Divinity Testimonium. His other distinctions included the Vice-Chancellor's Prize in English Verse, Archbishop King's Divinity Prize, and a prize in Hebrew.

He continued to study, and at the age of 51 gained both a first degree and a doctorate in Divinity.
Church Career and Family
In 1904 the Church of Ireland Gazette published a feature on Robert which noted with puzzlement how such an eminent man could have spent most of his working life in obscurity.

In those days there were no theological colleges, so Robert went straight from Trinity to be ordained (in Cork, for some reason) and to his first position as curate of Rathdrum. He moved the following year to be curate of the prestigeous city centre church of St Ann, Dublin, where among other notables the poet Mrs Hemans (author of 'The boy stood on the burning deck') is commemorated. While there he married Ellen Lees Smith, known as Nell. She was a daughter of Rev. George Sidney Smith, D.D., F.T.C.D. The wedding was on June 3, 1863, and the marriage lasted 44 years until Nell's death in 1907.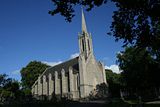 Robert served in St Ann's until he was appointed Vicar of Whitechurch, Dublin in 1864. There the couple's first two daughters were born, Helen Mary, who seems to have died young, and Florence Maud, born at the end of 1870. Robert enhanced the church building with a funeral door and chancel in 1868.


In 1871 the family moved north, to Holywood in the diocese of Down, where Robert made a lasting impression on his parishioners. The vicar in 1912, on hearing of his predecessor's death, said "Dr Wynne gained the deep affection of the people, and established a reputation for labours of piety and love seldom surpassed in the history of the Church."

It was in Holywood that the rest of the children were born, Charlotte Alice Sydney, George Robert Llewellyn in October 1873 (he became a clergyman and was known as Llewy), Maria Cerise (known as Cerise) in about 1875 and Edith Gladys (known as Gladys), the artist, in 1876. It seems that the first Christian name given to each of the Wynne children was for show and not for use.

Incidentally one of Llewy's sons in his turn became a Church of Ireland clergyman, and a very well-known one. Canon Billy Wynne brought The Samaritans to Ireland and was delighted to be named Irishman of the Year by a leading publication.

In 1880 when Gladys, the youngest, was 6 years old, the enlarged family moved to the south west, where Robert began almost a quarter of a century of ministry in what the Church of Ireland Gazette called "the beautiful but lonely cemetery of the Parish of Killarney."


One part of Robert's work was to improve the church building, erected in 1870. A friend from Killarney parish later commended his work and "said this would be apparent to anyone who knew what St Mary's Church was like when he came to the parish in 1880, and what it was like when he left the parish to take up other duties." Another parishioner said "His name is written large almost on every stone in this church. He beautified this church and made it worthy of being called the house of God." The church today is commended for the richness of its internal decoration.


This emphatically did not mean re-ordering the church according to the dictates of the High Church movement. Robert was vehemently opposed to a movement which he saw as elevating the Church and the Priesthood and hiding the simple Gospel of Jesus. One of his novels, The Curate of West Norton, satirises the followers of the Oxford Movement, telling how a zealous young curate filled the village church with High Church ornament and emptied it of people, until he was brought, by a Methodist preacher, to see the true Gospel. The novel ends with Robert's vision of the ideal church:
Mr. Sampson's church is plain and unadorned; so are his sermons. But they do their work. The parish folk know their parson as the Eastern sheep their shepherd. They want no painted or gilded substitutes for religion. They can pray without incense, and adore without an altar. The praises of God are true and deep, though they employ no surpliced choir, and 'the blessing of God Almighty' comes to them through a 'Great High Priest,' to whom alone they confess, and who absolves sinners by His blood. And when, from time to time, some new soul comes under the influence of the truth, then there is joy in heaven, and joy too on this poor earth, in a certain quiet home where two souls beat in unison, and are never happier than when they have a third beloved one to rejoice with them over the triumphs of the everlasting Gospel, from which no man can detract a jot, and to which no man can add a tittle, without spoiling its fair beauty, and frustrating its glorious end.


Concern with the building did not mean he neglected his people. A reference book (on the clergy in the diocese of Down and Dromore) claims that "Some thought him more suited to the study than the parish, but he was an excellent pastor." His generosity drew comment: "I never knew a clergyman who was less bound up in worldly cares and concerns. Limited as was his stipend, the poor always found in him a kindly and generous friend, and he always set an example of liberality in the calls made on us for the Church and other charitable purposes." (R.M. Hilliard, reported in the C of I Gazette May 17th 1912)

His personal dealings with his flock were private, but he did tell one story, "drawn from my own memory," as he says. We may take it that the clergyman was Robert.
A true, humble-minded servant of God was constantly lamenting to her clergyman that she could not realize the presence of her Saviour. For this reason she felt a difficulty in partaking of the Holy Communion.

"I cannot come and receive it until I know Him better, and feel Him near."
Come rather," said he, "because He invites you, and because you wish to meet Him, and to feel His love."

A week passed, and on the Lord's Day she was at the sacred feast. The next time her minister met her, she said with hushed voice, and a smile of quiet happiness, "He was made known to me in the breaking of Bread."
Robert said Morning and Evening Prayer daily in the church, as every Anglican clergyman is commanded to do by the Book of Common Prayer. He wrote these verses to encourage his parishioners to join him in prayer:
The Daily Service.

A special promise from the Saviour came
To two or three assembled in His Name.

A quiet Hour in the House of Prayer
Is real comfort in a world of care.

"I seem to get no good." This may be true:
Yet even so, Worship to God is due.

"But surely, God is present everywhere."--.
Yet has He called His House "The House of Prayer."

"I have not time" you say; yet you could find
Enough for this, were worship to your mind.

"The hour is late" But you can go with ease
To concerts later, because concerts please.

"There's no variety in daily prayer."--
Nor yet in daily bread, nor light, nor air.

"We are engaged, we cannot all leave home."
Yet one from every house could surely come.

When the bell sounds o'er street, and hill, and lea,
Let heart and conscience say, "'Tis calling me."

Come! do not let your pastor pray alone;
He longs to lead his people to the throne.

The Ven. G. R. WYNNE, D.D
. Archdeacon of Aghadoe.
[Printed in the parish magazine of Frenchay in 1902]
An example of his way with children in the parish comes from one of his books:
I was once hearing a Bible-class their Scripture repetition. The children all said their verses capitally.

Then I asked the meaning of a word; there was silence.

Next I asked a little maid, "What commandment ought you to think of if you are tempted to tell an unkind story, which was not quite true, about some other girl?"

Again silence!

So I made up a little verse and said it to the class. When they heard that it was rhyme, they listened at first with smiles of pleasure. But when I gut near the end, and left them the last word to fill in, I can tell you some of them looked grave, and some a little bit cross.

This was my rhyme:-

You can lead it horse to water,
But you cannot make him drink.
You can get the class to answer,
But you cannot make them --- "

They all guessed quite well what the word was that I did not say. But though it was on the tip of every one's tongue, only one little fellow of ten, who was not a bit ashamed, shouted out the missing word.
It must have been about the time of his arrival in Killarney that Robert began to publish. His books need a separate section of this brief biography.

When he finally left Killarney in 1904 it was as an Archdeacon, a Doctor of Divinity, a much published author, select preacher to Dublin University, Donnellan lecturer - whose lectures went through several printings - and Maynooth Prebendary of St Patrick's, the national cathedral of Ireland. The "beautiful but lonely cemetery" of Killarney had not left him forgotten or un-honoured.

He moved to Limerick, to be Rector of St. Michael's. The cathedral there immediately honoured him with another Prebendary stall. His wife died in 1907. He remained in Limerick until 1910, when he retired, aged 72. He had only two years to live.
Travel
Robert travelled at least once to America, and the experience left a lasting impression. We do not know the exact date, or whether he went with his wife, but in the introduction to his novel 'Ralph Clifford' he writes:
IN these pages I have sought to carry the reader in imagination to the Old Dominion, and to present him with some pictures of things and people there, as they would have struck an English visitor soon after the close of the great Civil War of 1861-4.

The tale has been written at long intervals, in the summer holidays of full seventeen years; and the incidents of the war, which were comparatively recent when it was first sketched out, are becoming quite ancient history now. But the hearts of the kind people of the Valley of Virginia are as warm as ever; and the memory of their hospitality and goodness to the writer of these pages can never grow dim.

Killarney, May 1894.
Counting seventeen summer holidays between the visit and the date of the Introduction would bring the visit to about 1875, when his parish was Holywood and the rectory was full of little children. It is unlikely that he would subject them to a long sea voyage, so he probably went alone.

It was not just the fond memories of people's kindness that remained. There was the voyage itself:
Let any one who has crossed the Atlantic recall his impressions of midnight--starless midnight—at sea, with the black, awful flood rushing by, and of the blaze of a summer cloudless noon, when the diamond-strewn track stretches from the great ship to the almost invisible horizon.
Then the journey to the Valley of Virginia:
NOTHING is easier than to reach from Washington that part of the Valley of Virginia where Mr. Thomson's farm lay. The Midland railroad, passing through Fairfax County, unites with the Manassas railroad at Manassas junction, and passing Front Royal, makes a connection with the great Valley Branch of the Baltimore and Ohio at Strasbourg. ... To every English traveller in America a trip of this kind presents new objects perpetually. The train, which had passed for many miles through a rather flat agricultural country, gradually ascended until it commanded a fine view over the cultivated plain in the district of Piedmont. ...Passing Piedmont, a village lying on the eastern slopes of the Blue Ridge, they entered by a rising and circuitous track the mountain region itself, where the forests, with their rich undergrowth of pale mauve kalmia, or mountain laurel, closed around them on every side, and here and there frowning slate cuttings hung above the track. Reaching the highest elevation, they began the rapid run of the western descent, and ere long the cars rumbled through a wooden tubular bridge which spanned a wide and dignified river [the Shenandoah], fringed with fine old maples.
And so the hero and heroine of the novel continue to see the sights that Robert saw, and to enjoy the hospitality that no doubt Robert was offered.

That American trip is the only one in Robert's life of which we have evidence in his writings. One hopes, for his family's sake, that he did not spend all his other summer holidays in writing, but took time to enjoy his nearest and dearest.
Books
A Church of Ireland Gazette article published in 1904 mentions some of his books.
'His "Morning" and "Evening Chimes for the Little Ones" supply our mothers with some chapters which are singularly fitted for conveying truth to very young children. Young people who have been carefully prepared for Confirmation will find just the help they need in three little volumes entitled, "Spiritual Life in its Earlier stages," "Spiritual Life in its Advancing Stages," and a small volume of essays, "Faith and Duty." Of late the SPCK has almost every year brought out a new story for the young from the Archdeacon's pen. To quite another class of readers "The Old Man's Psalm" will be equally welcomed; while the great cause of Missions has been materially promoted by the lectures delivered in the Chapel of Trinity College.

'All the clergy and lay people who are Christian Imperialists should read, if they have not already done so, the Archdeacon's Donnellan Lectures. "The Church in Greater Britain" — a new and wonderfully cheap edition of this epoch-marking book has lately been brought out price one shilling and sixpence.'
A list of all the works I have so far discovered follows. Several are available on line for the first time:
The Light of the Gospel, or, The O'Tooles of Glen Imaal (children's fiction)
The Curate of West Norton, a tale for the times, (London S.W. Partridge and Co 1868)
Only my Sister
THE EVIDENCE OF THE CHRISTIAN RELIGION, derived from its Original Propagation in the World; being a portion of the Origines Sacrae of Dr. Edward Stillingfleet, Bishop of Worcester. Abridged and Annotated by G. R. Wynne, B. A. Foolscap 8vo, cloth, 1s. 6d. (London S.W. Partridge and Co before 1868)
Ralph Clifford, a tale of country life in Virginia after the Civil War, (SPCK 1894)
Not Peace But the Sword (R.T.S. 1897) in which a young female evangelist converts a family of Joyce's in the West of Ireland.
Ballinvalley, or A Hundred Years Ago (SPCK 1898), a novel brought out for the centenary of the 1798 rebellion, telling of a loyalist couple's experiences in Wicklow and Dublin, including the Battle of Hacketstown. The author strives to be even-handed, listing atrocities committed by both sides.
Spiritual Life in its Advancing Stages
THE CHRISTIAN'S PROGRESS. By the Ven. G.R. WYNNE, D.D., Archdeacon of Aghadoe. 1s. published by James Nisbet & Co.
The Old Man's Psalm.
Written in 1903, this book is based on Psalm 71.
Faith and Duty - essays (Dublin Sealy, Bryers and Walker, London Elliot Stock 1889)
The Church in Greater Britain - the Donnellan Lectures delivered before the University of Dublin. 1900-01. London 1901. 3rd ed. 1911. Sm. 8vo.
The Day's March: A daily portion for the children to read at bed-time. (SPCK 1906)
Mercy and Truth - article in The Expository Times, 1910
Men of Galilee - article in The Expository Times, 1911
His Father's Son; A Tale (SPCK c. 1900)
An index to the Girls' Own Paper, © Honor Ward, includes this:
Wynne Ven.Archdeacon D.D.: Sweet-Gale Volume 1894.15 Mignonette Page(s) 3
The Girl's Own Annual Vol 21 RTS 7.10.1899 to 29.9.1900 includes
'In the Days of King Alfred: A Love-Story of Ancient Erin' by Ven. Archdeacon of Aghadoe;
His death
Having retired from his Limerick parish, Robert began his very short time of leisure. It seems that he took up residence in Glendalough, where his daughter Gladys later lived, and where Wynne relatives owned and mined land.

A last contribution to The Expository Times came in 1911.

Early in 1912 he resigned his canonry at St Patrick's Cathedral because of 'failing health.' One hopes that what he wrote about old age in 'The Old Man's Psalm' was true of him:
We rid ourselves of the idea that our lifework is ended when our activities are given up. Then begins the St. Martin's summer, in which mild-tempered rays of the sun brighten up many sere and yellow leaves, and throw a most attractive glow over the landscape. How foolish would he be who refused to make the most of the "Indian summer," because it must soon be followed by the frosts and snows of winter! It is in those autumnal days that gardeners plant roses and fruit-trees, and look for fair flowers and fruit in due season.

Let the season of age be long or short, it is given to us first to enjoy in the light of memory and of present "grace, mercy, and peace," and then to use as a time in which, to the generation advancing to be the actors of the future, we may impart lovingly much wisdom which may teach them where to look for danger, where to look for help.
He died in The Lodge, Glendalough, a house looking out on to the ancient monastery of St Kevin with its many churches and its famous round tower. The date of his death was 2 May 1912. Immediately the Irish church paper published tributes and reports of tributes. Of these, one stands out:
A man whose modesty was in direct proportion to his great natural gifts and fine accomplishment, he passed much of his life almost unknown outside the range of his parochial duties. But those who knew him intimately recognised in him a very charming personality, and a mind capable of high attainments. His service to the Church he loved was as devoted as it was invaluable. He ranks among those figures which shed lustre on the Church of Ireland. His very modesty was in itself an asset of religion in its truest sense. Dr. Wynne was of the type of the Jelletts and the Salmons — men to whom high thought was as the breath of life. He lived and moved and had his being in an atmosphere of sanctity. He did great work in his own unobtrusive way. One might apply to him with truth the words so finely uttered of a splendid character— "He passed almost unnoticed through the world, and left a trail of light behind him."