It was the middle of June 1869, at the height of the Victorian era.

Beautiful and aristocratic, the younger daughter of a London solicitor, Georgie Annesley was 27. Although her father was also a younger child, he looked to the fine old manor house of Clifford Chambers as his family home, and he could trace his lineage to Britto Annesley in the twelfth century and on the distaff side to many noble and royal houses.

In the absence of any records about Georgie's early life we must assume that she learned the accomplishments of a young lady of the period but was not expected to have a career or earn her living. To judge by her later life we can guess that she was sentimental, an earnest Christian ('earnest' was a word much used at the time), and given to good works. Why she was not already married, and why her elder sister Emily never married, we do not know.


Major Charles Acton was a reserved and introspective man of 38 on home duty after a spell in India. Like Georgie and her father, he was a younger child of a landowning family; the family estate was in Ireland. He was an active man, enjoying sailing and hunting - he had recently been nearly killed when he fell from his horse during a hunt and the horse trod on his chest - but he came from what he described as "a very reserved family amongst ourselves, and not intimate enough in our exchange of thought and feelings, at least it is so with me, and I find the same often prevents my amalgamating, as it were, with my friends."

There is little doubt, then, why Charles was unmarried at 38. His shyness was the stumbling block. He once confided to his diary after attending a ball:
'Ball good, but I don't seem to get on well; want of early and prompt securing of dances with those I like. . . . Awfully devoid of conversation.'
Somehow this social failure plucked up courage to propose to the lovely Georgina. The regiment was stationed at the time on the south coast of England, in Portland and Weymouth, so it could be that they met there - one is reminded of south coast romances with army officers in Jane Austen; or Charles may have come up to London for the summer.

Obeying the rules of society, Charles must have asked the solicitor's consent before summoning up courage to propose to Georgie. Once Georgie had accepted his proposal, he hesitated no longer. The wedding took place just six weeks later, on 31st July.

The ceremony was in Christ Church, Lancaster Gate in London (now demolished). Georgie had nine bridesmaids, and Charles, her shy bridegroom, made no less than three speeches at the wedding breakfast. The honeymoon was in Germany and Switzerland, after which the newlyweds spent three months visiting family and friends in England, surely including Clifford Chambers.

Eventually, in November, Charles had to rejoin his regiment, but then the couple had a stroke of luck. The regiment was ordered to Ireland in March 1870. Now Charles was able to show Georgie his family home in County Wicklow, variously known as Westaston or Kilmacurragh, and she got to know his Irish relatives.

It was in Ireland that their first child, William, was born on 21st March 1871.


Georgie's life was changing more and more. Her 65 year old father, who had given her away at her wedding less than three years before, died on 9th April 1872. Now that she was married, the loss of her father was a personal grief but did not affect her day to day life. Unhappily for her, in the following June Charles' regiment heard that it was to go to India again. Georgie was to live with neither father nor husband to care for her.

Charles sailed on 16th October, and Georgie went back to England with little Willie. She was six months pregnant.

On 29th January 1873, left at home in Tunbridge Wells with her recently widowed mother, Georgie at the age of 32 had her second child, Evelyn Caroline Annesley, the only one of her children to have descendants alive today.

Baby Evelyn's third name, Annesley, kept the link with her mother's family pedigree. (Evelyn in later life was well aware of this distinguished ancestry, but used to say, after explaining it, "But it is all vanity!")

News of Evelyn's arrival reached her father Major Acton in February. He was in Fyzabad, enjoying shooting and pig-sticking while on leave. His letters home may possibly survive in the Acton family archives, but his printed biography does not record his reaction to the happy news.

Instead we are given this extract:
'I sometimes have my doubts whether pig-sticking and so much shooting is good or advisable, and resolve not to give so much time to them.'


This remark underlines the sort of person Evelyn's father was, a convinced and 'earnest' Christian, pious and probably too introspective. His life story was published and is available on line, including the fact that he added the name 'Ball' to his surname; so here it will be enough to note that he put his Christianity into practice all his life, visiting the sick and helping the poor.

In India he saw enough of what alcohol did to the soldiers under his command to make him give up the drink which he had enjoyed, in order to set an example of abstinence. This was in that very year, 1873. Indeed a soft drink came to be locally known as "a Ball-Acton".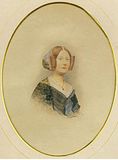 In November, 1873, when Evelyn was just 10 months old, her mother sailed to India to join her husband. Evelyn and William were left in Tunbridge Wells with their grandmother Emily Annesley (nee Forster) and their Aunt Emily.

Georgie must have chosen her date of departure for practical reasons, when Evelyn could be weaned; but one psychiatrist has taught that the first nine months after birth are a 'womb of the spirit' when the personality is formed by the care and love of the parent (or stand-in for parent) just as the body is formed in the womb. If so, then Evelyn had the necessary time with her mother, before what must have been a sad parting for all concerned. She also had the continuing love and care of Grandmother Emily and Aunt Emily. Indeed she grew up so fond of Aunt Emily that she chose the name for her own daughter. The separation that left many children of that era emotionally stunted and inhibited (one thinks of Kipling for example) certainly did not have that effect on Evelyn.


Meanwhile, uncles and aunts sent them presents. The first Christmas after their parents left them, William's present from his Aunt Janet Acton of Kilmacurragh was 'The Little Folks Picture Gallery' with an engraving and four lines of verse on each page. One page is headed 'Watching for Father' and shows a girl and boy looking wistfully into the distance. Another, called 'Good-by', has the sailor father fondly leaving a boy and girl. At least Evelyn and William would know that they were not the only ones left without their parents.


Aunt Emily lived in Godstone, not far from Reigate in Surrey, and Evelyn kept a photograph of the church there, which she annotated as the first church she ever went to.

William's scrap-book dated 1876 when he was five shows how their parents were always there as a distant presence. The first two-page spread shows photos of his father on the left hand page with 'scraps' of robins above and below, and of his mother on the facing page, with flowers above and below. Evelyn's scrap-book had the same photographs, but without decorations.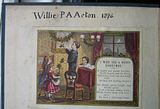 Evelyn's Christmas present in 1876 from her Aunt Janet was a highly coloured book of Home Pets - jay and magpie, doves, fawn, swan, lamb and guineafowl. William was given, by his Uncle Reginald Annesley, 'The Alphabet of Games and Sports' which, again with brightly coloured illustrations, gives a fascinating glimpse of Victorian childhood. The games are severely labelled as for boys or for girls, or a few, like hoops, for both. Egg-hat, for example, is for boys. "Egg-Hat is a boy's game, not fit for Millie. John is going to throw the ball he holds into one of those four hats. The other boys watch, in order to be ready, the instant he has done so, to run away; except the one into whose cap the ball happens to be thrown. He must rush quickly to pick it up, and throw it after his playfellows. But if they run very fast he will not be able to hit any of them with it."

Wille and Evelyn did not see their mother again until May 1877, when Evelyn was four. The biography tells us (p.70):
On May 4th Evelyn's parents arrived in Liverpool and 'at once proceeded to London. The meeting with their two elder children was naturally a great pleasure to the parents, who had been so long separated from them, and Charles Acton remarks on the eldest (Willie) that he was "such a big boy - does not seem to belong to us!"'
It takes an effort to imagine the feelings of a four-year-old about to meet her father for the first time, and her mother of whom she can have remembered nothing. No doubt their names loomed large in conversation from as early as Evelyn could understand anything, and no doubt she and Wille looked forward to having their own parents all to themselves. But there was a problem. Two more children, Grace and Charles, had been born in India and were coming back with their parents. Wille and Evelyn did not want to have to share their parents with strangers.

This is the background to the story Evelyn told in later years. Their grandmother and aunt discovered them digging in the flower bed and asked them what they were doing. They replied that they were digging graves for their brother and sister.

Clearly the brothers and sisters grew to love each other, and to have great fun together. Evelyn recalled two books they used: Merry Songs for Merry Little Singers, from which as an old lady she could still quote one refrain:
O yes, O yes, we all confess that we are much to blame
But didn't you, didn't you, didn't you, didn't you do the same?
and the other book, Plays for Little Actors. Naturally one of the children corrected 'Actors' to read 'Actons'.

Evelyn remembered the lyrics, but she could not sing. In fact she was one of that rare breed, the genuinely tone deaf. Her son Charles took after her in this, while her daughter Emily was able to sing and to play the piano. Evelyn used to quote ruefully Shakespeare's lines from The Merchant of Venice:
The man that hath no music in himself,
Nor is not mov'd with concord of sweet sounds,
Is fit for treasons, stratagems, and spoils.
But she loved poetry, and claimed that Shakespeare would have allowed a love of poetry to count equally with a love of music.

We do not know how the children were educated before they went off to school, but Evelyn probably learned to read with the famous book "Reading Without Tears", which came out in 1857, and which she used to teach her own grandchild to read. If she was taught in the same way as her grandson, she sat comfortably on the lap of her Aunt Emily and read aloud those early pages, where each word came three times, in large, medium and small print, using a shout or a whisper to match. Someone taught the boys Latin, and taught it effectively. When William arrived at Monkton Combe School (see next chapter) he had already reached Exercise 30 in 'Henry's First Latin Book,' which covered verbs taking the dative case and used the pluperfect subjunctive.

Soon after the reunion with her parents, Evelyn was taken to her father's native Ireland. Charles had been born the youngest son in the family home of Kilmacurragh, near Rathdrum in County Wicklow. The house had been the family seat of the Actons since 1696, and the estate was now being run by Charles' eldest brother Thomas, with the help of his sister Janet. The pair of them were transforming the grounds into an arboretum, an internationally important home of rare imports from as far as China. It is good that after years of neglect the grounds are now being restored under the auspices of Glasnevin.

In Ireland Evelyn's father "enjoyed much shooting. There were also Bible-readings, services, and Total Abstinence meetings, in which he joined with much pleasure." Her mother was otherwise occupied: Reginald was born on 2nd October 1877.

Georgie must have spent some of her pregnancy in writing down prayers to be said at Family Prayers each morning and evening of the week. She had these prayers printed by a Wicklow printer, William McPhail, and presented a copy to her husband on September 8th.

These prayers show a devoted Christian soul, a mind steeped in the Bible and the Book of Common Prayer, and a heart that longed for her children to grow up true Christians. Two examples:
Bless the children of this family: may they be brought up in Thy fear and love.

Bless all our dear relations and friends richly with all spiritual blessings, especially we pray for those dear children Thou hast given us. May they be brought up in Thy fear and love, and grant that they, being steadfast in faith, joyful through hope, and rooted in charity, may so, pass the waves of this troublesome world, that finally they, with us, may come to the land of everlasting life, there to reign with Thee for ever and ever.
Evelyn was a much-prayed-for daughter.

We read in the biography that
Returning to England, Major and Mrs. Acton went for a time to Norwood, where they stayed with friends.
The children were with them, because Major Acton's diary reads:
Norwood March 1878. St Patrick's Day 17th.

With G(eorgie), W(illie), Eve(lyn), and Cotton to Gipsy Hill Church. Revd Allen Little Sins! An excellent sermon, may God bless it to both of us. Are my sins little? Sloth, self-indulgence, envy, anger, inattention, wandering thoughts and sleepy when in Church, anything against love. I seem to get glimpse of what a delightful state it would be to live altogether for Xt (Christ). - to be perfect. By God's grace we will.
But it was not all churchgoing and introspection. The whole family also went on an enjoyable visit to the Crystal Palace.


After these journeys and visits, Evelyn's father bought a house of their own in Queen's Road, Tunbridge Wells, called Combermere House. "Here he at once became an indefatigable and earnest worker among the poor, visiting them in their homes, and relieving their necessities with a generous hand." He did not stay long to enjoy the new home, because he had to return to India in September 1878. The children must have been sad at his going, but glad that their mother was staying in England this time. Indeed, since Major Acton was going to see fierce action in the Second Afghan War, it was very good that Georgie was not with him.

He had left behind a wife two months pregnant. Vere was born on 22nd April 1879.

The 1881 Census tells us that there were four servants to help Georgie. Two nursemaids looked after the children. One nurse was a 30 year old widow, Eliza Berry, who came from Lewes in Sussex; the other was a 21-year-old born in Switzerland, Sophie Jordan. Then there were two Hamilton sisters from Glack in County Tyrone. Mary Jane was cook and her elder sister Caroline was parlourmaid.