Chapter 1 A new arrival at Wentworth House
On 20th June 1902, while her husband Edward Nixon Wynne was away in Dublin to attend an auction, and her two year old son Charles Acton Wynne was having measles, Evelyn Caroline Annesley Wynne was brought to bed, as people used to say, of a daughter. Fourteen years later Edward affectionately recalls how he learned of the birth.

"Just to think - that you are 14 years in Wicklow! and that you waited till you got me away at a Dublin auction to slip in there without my knowing till I got a telegram - just like you playing tricks on your poor simple Daddy.

"Well, he loves you very dearly, and I am afraid the longer he knows you the more he loves you. What would we do if we had not got you?"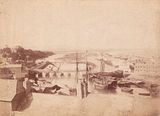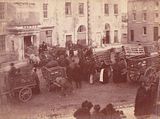 As was the custom, Emily Evelyn Wynne was born at home, in Wentworth House, Wicklow. The house, demolished in the late 1990s for a supermarket, was an oasis of calm on the edge of the fishing and market town of Wicklow. It was close to the Church of Ireland parish church, set on a hill, whose copper onion dome green with verdigris is a feature of the Wicklow skyline. Looking back in old age, Emily described it like this:

"Wentworth House, Wicklow, was a comfortable solid house. It had three reception rooms, a pantry, kitchen, scullery and maid's bedroom, with a dark-room for photography under the stairs. Upstairs was a long corridor with four bedrooms and two dressing-rooms large enough to hold a bed, a lav and a bathroom with a bath but no fixed basin, just a bowl in a wooden washstand."

The house may have belonged to Edward's father and mother, George and Clara, who were first cousins and are buried in Newcastle churchyard, just outside Wicklow, the church where Edward was baptised. It was semi-detached, but Edward was a keen gardener, and had laid out the grounds so that one was not aware of the other house. That other house had little or no garden, and was approached straight from the road, while Wentworth House had a drive curving up to the front door and a back gate leading to a yard behind the house. As Emily's reference to the dark room in the house suggests, Edward was also a photographer, and has left a pictorial record of house and garden. One photo was copied, probably by Evelyn, as a water colour.

Emily describes her father in a few pages of reminiscences written in two of her granchildren's abandoned exercise books: "My Father, Edward N. Wynne, was Secretary of Wicklow County Council. He had the Engineering Degree of T. C. D. and spent 10 years mining in Germany with his cousins Albert and Windom (sic) Wynne. Albert and his wife Alice had five children who were a source of happiness to him in what could have been a rather lonely time. He became fluent in German which he realised when he found he was praying in that language. On his return home to Wicklow, his father, George Wynne, was ill and not able to carry out his duty as Secretary to the Grand Jury so my father stepped in to take his place and was eventually appointed to the secretaryship. Later the Grand Jury evolved into the County Council. Altogether my father served for 32 years."

Edward was the youngest in a family of six. There was Kate, who married Richard Featherstonehaugh, went to Australia and returned to live in Glendalough, Co. Wicklow. There was Sophie, who married her cousin Wyndham, Managing Director of the West Prussian Mining Company, Limited, and there was Edith.

Edith seems to have remained unmarried. A letter from her tells something of how a young lady spent her time in those days: "I must now tell you something of the Clothing Club. I send you some of its papers. The way we manage is this - We go up to the courthouse at 11 o'c. on Tuesdays and there remain until 12 o'c. The Women come in one by one each with her card and money and one of us writes the date and amount brought on the card (each of wh. is brought in a large envelope) while the other has a book of accounts in wh. we put down the same. ... I am kept pretty busy these days between house-keeping, wh. I may say I never did before and practising for Mrs Darrow. I am also learning to sing with Mr. and to draw. At present I am doing heads. I leave our district to visit (wh. lately I have not been good at I am sorry to say) and I read a good deal. Lately I have been reading Robertson, his life and letters, sermons and lectures and addresses to the "Working Men's Institute." I have also been read 'In Memoriam' and learning some of it by heart. It is beautiful; read it when you come across it.

"In the middle of this letter I had to go to the school to teach the children dictation; Mrs Nooke came for me. I have not been there for ever so long, but, please Goodness, I intend for the future to go regularly."

Then there was Robert, who became Archdeacon of Aghadoe and Canon of St. Patrick's Cathedral, Dublin, and wrote improving books with such titles as 'Spiritual life in its earlier stages,' 'Spiritual progress,' and 'The old man's psalm.' Robert also had six children, including Gladys, whose water-colours of Glendalough and other Irish landscapes have a lasting charm. Edward's other brother was Alfred, a J. P.

From Edward's time in Germany there exist several letters, and his own account of his brush with death as he pursued armed robbers and confronted one when he had no weapon of his own. This is part of the first letter we have from Germany, to give a flavour of his devotion to family and to God:

"Niederfischbach. Dec. 22nd 1877.

Darling Mother

Here is Christmas come round again with all its blessings, all its associations and memories.

I write to wish you all, my darling Papa dear Sophie and Edith, my dear little Alice, and not least you dearest Mama, a very happy, joyous, peaceful day together. We have indeed all a great deal to be most thankful to a merciful, tenderly loving Father for. Though we are not all now in Wicklow, all our thoughts are concentrated there together with you all, there is not one of us missing, not one of us all who is not praying for and thinking lovingly of each other and of you all."

He left Germany in 1883.

Edward had other passions, too, besides his home and family and his photography. He was an excellent marksman and shot for Ireland, accumulating a large collection of silver trophies. He was also a member of the Orange Order, and a devoted member of the Church of Ireland. He was made a J. P. His work at Wicklow County Council brought him a good income, but also a good deal of stress, partly because of the rising nationalist feeling in the country, shared by most members of the County Council, which went counter to his deeply held Protestant faith and his loyalty to the Crown.

Emily was devoted to her father, who used to write to her, as we have seen, in deeply affectionate terms. Letters written when Emily was six or seven began, "My own Emily," "My own dearest Girlie." Once, in about 1908, both Emily's parents went on holiday, leaving her and Charles at home. He wrote: "Mother and I are hungry to get home to you both dear ones. Give Daddy's love to Charlie and to your own dear self your loving Daddie." That fourteenth birthday letter begins:

"My own sweetest Pet Emily

Though this is very late I must write to wish you from the depth of my heart of hearts a very very happy birthday, which I am sorry I cannot spend with you, and try to add some extra brightness to it for you Darling."

Emily and her mother were probably seldom apart, so we have no letters from her in these early years. In later years Evelyn's letters were as full of love and concern as Edwards had been, and the whole family were clearly very close and loving. About her mother Emily writes:

"My mother Evelyn Caroline Annesley Ball-Acton was the second child of Colonel Charles Ball-Acton and his wife Georgina nee Annesley. He was the youngest of three sons of William Acton of Kilmacurragh (Westaston), Rathdrum, and left home as a young man and joined the Yorkshire Light Infantry. He was a very definite Christian and wanted to witness to others. In India where he spent many years, he saw what harm drinking caused among his soldiers and started temperance meetings for them, and to set an example took the pledge himself - a very unusual thing in those days. At that time on the North West Frontier a soft drink was called a Ball-Acton!"

On the death of Colonel Charles Ball-Acton his widow commissioned a memoir, a hard-back book of 150 pages or so, which is still in the family's possession. His wife Georgina Cecilia Annesley came from an old family that could trace its pedigree to Britto Annesley in the twelfth century and on the distaff side to many noble and royal houses. Evelyn was well aware of this distinguished ancestry, but used to say, after explaining it, "But it is all vanity!"

Emily continues: "When my mother was less than a year old, she and her elder brother William were left in the care of their Grandmother Annesley and Aunt Emily in Tunbridge Wells, when her mother went out to India to her husband. She stayed in India for five years and Charles and Gracie were born there. William went to Monkton Combe School, only recently opened. When only 12 years old, he died from meningitis, a grievous sorrow to his parents and to my mother. They lived in Queen's Road, Tunbridge Wells, and my mother went to Miss Goldie's School."

We can add a little more to these recollections. When Evelyn and her brother William heard that their mother was returning from India with two younger children, they were not pleased. Their grandmother and aunt discovered them digging in the flower bed and asked them what they were doing. They replied that they were digging graves for their brother and sister.

Clearly the brothers and sisters grew to love each other, and to have great fun together. Evelyn recalled two books they used: Merry Songs for Merry Little Singers, from which she remembered one refrain:
O yes, O yes, we all confess that we are much to blame
But didn't you, didn't you, didn't you, didn't you do the same?
and the other book, Merry Plays for Merry Little Actors. Naturally one of the children corrected 'Actors' to read 'Actons'.

William's early death makes the letters that he wrote to his parents from Monkton Combe School particularly poignant. He was very worried on one occasion because he and a friend had dropped earth from a bridge into a passing railway truck, and had to appear before a magistrate. At another time he had to write twice before he had his parents' permission to buy a piece of ribbon, perhaps his house colours, to sew on his athletics kit for the school sports day. Whether he ever ran in the sports is doubtful, because at just about that time he complained of frequent headaches; the school matron and the doctor put the headaches down to various causes, but clearly he had contracted the meningitis that led to his death.

About that school in Tunbridge Wells, Evelyn wrote in November 1955:

"Yes, I was at Miss Goldie's school but I think only for 2 or 3 terms. I can not quite remember how long I was there. I know I left in 1886, as my family then left Tunbridge Wells to live in Northamptonshire. One or two things I do remember: The first Missionary address I heard was from a Miss Swainson, a Missionary from India, who gave us an address in the Big School room and made a charming impression on me. There was a big School room facing the road and it had an organ in it, and there was a text on the wall. 'Not unto us, O Lord. but unto Thee be the praise.'

"At that time every girl had to say once a term a piece of poetry to Miss Goldie herself. I remember, after having prepared a poem, standing outside her door with great fear before knocking. The poem I had leamt was 'Maud Muller' by Whittier. I was disappointed when Miss Goldie would not allow me to say it; she said that poem was forbidden to be learnt or said. I suppose the ending was thought too melancholy.

"Another incident I remember was that all the pupils were collected in the Big Schoolroom to hear Miss Goldie tell us about the evils of tight lacing! She told about two girls (I think they were Old Girls) who had gone to India and one day, dressed for one particular occasion, they laced themselves too tight and were found quite dead lying on their beds. It does sound dreadful now, but I do not remember feeling very shocked then."

Two years after Evelyn and her family moved from Tunbridge Wells, she and Edward Wynne met. It was at Kilmacurragh, the Wicklow family seat of the Acton family, where Evelyn was staying with her Uncle. Edward, whose family were also landowners, came to visit, and after talking with his host, was invited to talk to Evelyn and her sisters. He said, "Yes, I like young people," went over, and fell in love. Evelyn wrote on the back of a sepia photograph of the greenhouses at Kilmacurragh:

"I think it was about half way up on the left side not the greenhouse side.This is where your darling Father andI first saw each other in 1888. Evelyn Wynne."

Evelyn was 15 and Edward was in his forties, and not unnaturally Evelyn's parents objected to their hopes ofmarriage. They took the family for a year in Dresden in 1889, hoping no doubt that the love would fade. Evelyn wrote later of the joys of Dresden, like visits to the opera and art gallery, to castles in the country and skating in winter, and of the less enjoyable parts, like school food, haughty soldiers and bed bugs. Evelyn enjoyed the Dresden experience, but the love between her and Edward remained as strong as ever.

Evelyn was presented to Queen Victoria when she 'came out' in 1892. That same year the strange forbidden courtship advanced a little. Evelyn once told me the whole story in more detail than she had told anyone else, she said, and it is a lasting sadness to me that I cannot remember more. Among much else there was, I think, something about Edward wearing a red tie, to which Evelyn's parents took exception. I can,however, add this, written by Evelyn many years later for her children:

"This is a copy from my dear Father's Diary written Nov. 16th 1892. My parents went to stay at Torquay with Col. Wm. Acton, my uncle who evidently put them very much against Mr. Wynne. Col. Wm. Acton had only met Mr. Wynne for 2 days at Kilmacurragh and they had had discussions about Ritualism and as Col. W. A. was very High Church, ofcourse they disagreed.

"This that I am now copying is part ofa letter your dear Father wrote to my Father then:

"'Perfectly satisfied that the whole is ordained by our loving Father. Afteryears of most earnest prayer, leaving all in His hands, never asking for her,but that He should choose, and direct it for her good, future blessing and happiness.So desiring her good and happiness to exclusion of self, I accepted every obstacle that seemed to arise as sent by Him, and left them to Him to remove if He thought fit. For if I letself or my own interests direct, I would not be carrying out God's plans,could not expect His blessing on her future happiness.'

"There is a good deal more but it is mixed up with my Father's remarks in the Diary but this is a further part of the letter.

" 'Ascertain for yourself whether Evelyn's belief and trust in our Saviour has decreased or increased during our intercourse. May God remove your doubts and show you plainly what is His will.'

"Then my Father writes 'May God teach us.' Then on Nov. 29th. my Parents returned from Torquay and my Father writes in his Diary. 'Home all well. Find E. alas! hopelessly in love with Mr. Wynne'."

And she remained so until his death. They had to wait ten years after that first meeting in the garden, but on 3rd November 1898 Edward Nixon Wynne, aged 51, married Evelyn Caroline Annesley Ball-Acton, aged 25, at St. John's, Boxmoor in the County of Hertford. Rev. F. H. Annesley, uncle of the bride, officiated. Charles Acton Wynne was born on 13th June 1900, and Emily Evelyn two years later.